The Difference Between Cosmetic Surgery & Plastic Surgery
SERVING BEVERLY HILLS AND LOS ANGELES, CALIFORNIA
There are many misconceptions about what a plastic surgeon specializes in versus what a cosmetic surgeon focuses on. In today's day and age, many people use the terms 'plastic surgery' and 'cosmetic surgery' interchangeably. However, we are here to clarify the difference between cosmetic surgery and plastic surgery.
Plastic Surgery
Plastic surgery focuses on reconstructing and repairing defects for a more normal appearance and function. These defects could be due to birth disorders, burns, disease, and other forms of trauma.
The main goal of plastic surgery is to correct debilitated areas of the body and is reconstructive.
Cosmetic Surgery
Cosmetic surgery's focus is on enhancing a patient's appearance by improving symmetry and proportion to achieve an ideal image. This type of surgery can be completed on almost all parts of the neck, head, and body. Because the areas treated by cosmetic surgery are fully functional but lack visual appeal, it is elective.
Differences Between the Specialties
It important that patients understand that the terms 'cosmetic surgery' and 'plastic surgery' are not synonymous. There has been much confusion that has often led the public to misunderstandings about the two areas. Cosmetic surgery is elective, and focuses on the aesthetics of beauty, while plastic surgery is done to correct defects.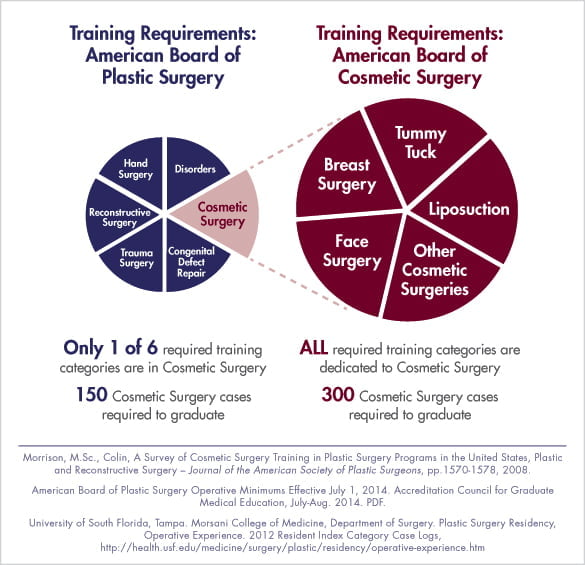 Graphic Provided By: American Board of Cosmetic Surgery
The average age for cosmetic surgery is 41. Younger patients tend to undergo treatments such as liposuction, breast augmentation, rhinoplasty, and dermabrasion. Older patients often undergo a breast lift, facelift, blepharoplasty, and Botox treatments.
Since the procedures and results of each are different, the education and practice of cosmetic surgeons and plastic surgeons is very different.
Because there are no residency programs in the United States exclusively devoted to cosmetic surgery, physicians who choose to pursue cosmetic surgery have experiences that include medical school and a fellowship or residency program, followed by board certification in their chosen surgical specialty and post-residency training in cosmetic surgery. A physician can obtain post-residency training by undergoing a cosmetic surgery fellowship program, workshops, lectures, and seminars. Those physicians who have specific experience in cosmetic surgery may also choose to become board certified by the American Board of Cosmetic Surgery (ABCS), which has organized a firm set of standards to confirm specific experience in cosmetic surgery.
Plastic surgeons' training is similar to that of cosmetic surgeons. However, following medical school they must complete a fellowship or residency in plastic surgery. They may then become certified by the American Board of Plastic Surgery. A plastic surgeon can then choose to undergo additional training in cosmetic surgery if desired. This can be done through a fellowship program, seminars, lectures, and workshops, and a certification by the American Board of Cosmetic Surgery can then follow.
It is significant that both the public and healthcare professionals fully understand the differences between cosmetic and plastic surgery so that patients can make knowledgeable decisions when choosing a surgeon. The American Academy of Cosmetic Surgery and the California Academy of Cosmetic Surgery focus on patient safety and education and strive to further develop the specialty of cosmetic surgery.
As a cosmetic surgeon and physician, Dr. Berger's affiliations include: Trustee of the California Academy of Cosmetic Surgery, member of the California Academy of Cosmetic Surgery, President of the California Academy of Cosmetic Surgery Foundation for Patient Safety and Education, member of the American Academy of Cosmetic Surgery, member of the American Academy of Anti-Aging and Regenerative Medicine, member of the American Holistic Medical Association, member of the American College of Nutrition, member of the American Academy of Clinical Endocrinology, member of the American Society of Bariatric Physicians.
It is important that patients choose a surgeon based on his training, education, and overall experience. It is also important to choose a physician based on his experience in the specific procedure you are having. Doing your homework before undergoing any type of procedure is important, and should include researching the surgeon, viewing before and after photos, and speaking with individuals who have received care from that physician in the past.
It is also vital that you undergo your procedure of choice in an accredited facility. During your consultation, be sure to ask where the procedure will be performed, and if possible, ask to visit the location.
Every state has an individual Medical Board whose job it is to license physicians as well as track complaints and disciplinary actions against physicians. Many states also have online systems that can look up physicians by name. For more information, contact your state's Department of Health or Medical Board.  Visit www.fsmb.org for a full listing of Medical Boards by state.
Why Choose Dr. Andre Berger and Rejuvalife Vitality Institute?
Founder of Rejuvalife Vitality Institute, cosmetic surgeon Dr. Andre Berger, MD specializes in cosmetic surgery and anti-aging medicine. Renowned for his expertise, he has more than 35 years of practice experience which includes medical management, internal medicine, clinical pharmacology, nutraceuticals, emergency medicine, cosmetic surgery, cosmetic medicine, anti-aging and regenerative medicine, and functional/holistic medicine.  Dr. Berger has authored the widely-acclaimed book, "The Beverly Hills Anti-Aging Prescription".
Canon Surgery Center
Rejuvalife Vitality Institute utilizes Canon Surgery Center, an AAAHC fully accredited and equipped surgery suite, exclusively for our patients. Accredited surgery centers have higher standards than others, and conform to the hundreds of standards required for providing superior and safe care. With a state-of-the-art facility in a private a boutique atmosphere, patients can expect a safe, comfortable, and enjoyable visit.
Please contact Rejuvalife Vitality Institute at 310.695.1051 today to schedule a consultation. Dr. Andre Berger serves patients at Rejuvalife Vitality Institute in Beverly Hills and Los Angeles, California.
Written by Dr. Andre Berger